In 1899, the assistant vicar of the Pulkkila congregation then, Lauri Arvid Itkonen, applied for the position of Vicar in Inari. He had previously purchased Elias Lönnrot's book "Über den ENARE-LAPPISCHEN DIALEKT", became thoroughly familiar with it, and did research on the Inari Sámi language at university under Professor Arvid Genetz. He acquired through this work an advantage over another applicee, Kuno Strömmer from Muhos whose resumé was longer and who had more work experience.
When Lauri Arvid Itkonen began work as Vicar of Inari, he had at the same time begun to translate Bishop J.L. Ryle's religious booklet "Oađáh-uv tun?" (Are You Sleeping?) with the help of the informants Iisakki Mannermaa and Heikki Mattus. The booklet that was published in 1902 was funded by the Uno Knorring fund. He simultaneously translated together with his informants a "Catechism" which was published the same year, as well the institute head F.W. Sundwall's adaptation of the book, "Ráámmat historja" (History of the Bible), published in1906 for the Finnish Literary Society. At the end of this book there are maps of the eastern areas of the Mediterranean Sea and Caanaan, which names were adapted to Inari Sámi.
Lauri Itkonen was so well versed in the Inari Sámi language that he would have had a great opportunity to influence the progress of the written Inari Sámi. He possibly had thought of a book of verses or a collection of verses in Inari Sámi, because some translations were found among his papers. There was not enough money available for printing Sámi language publications so Lauri Itkonen became frustrated. He thus focused his attention on the study of the Hebrew language and through his research of the Psalms and the letters of Isaiah he received membership in the Finnish Scientific Academy, a vice-membership on the Bible Translation Committee, as well as an honorary professorship of theology in 1923.

Such a great blow to the Inari Sámi language as was Lauri itkonen's taking up research of the Hebrew language instead of Inari Sámi, a yet greater blow was dealt when he was on a sermoning trip in the summer of 1912 to Kultula on Ivalo River. The parsonage burnt down and Itkonen's whole archives of Sámi language literature was destroyed in the fire. He lost at the same time all the Finnish language documents, such as ministry books and the like. The fire affected him to such a great extent that it made it that much easier to make the decision that he already been contemplating. Training a large amounts of children would not be easily accomplished from Inari, so he moved in the Spring of 1914 to Vihti. Lauri Itkonen's stay in Inari lasted only 13 years but during that time he accomplished a great deal. Of Itkonen's thirteen children, one boy remained in Inari, where an iron cross at the burial island on Lake Inari reads "Pekka, b. 1900, d. 1903".
Lauri Itkonen was the most significant of the Itkonen family here in Inari in that he was the father of the famous group of brothers. These brothers were: Lauri Ilmari (oldest and the discoverer of the Stone Age village at the mouth of Juutua River as well as deputy judge), Toivo Immanuel (third oldest and reknowned language and folklore researcher), Erkki Esaias (youngest and an academician), as well as Tuomo (Vicar of Inari and Headmaster of the Sámi Christian Folk High School). Other children were Arvo Johannes (changed his name later to Jussi), Tyyni (second oldest), Eeva, Aili, Pekka, Heikki, Aino, Rauha and Saara. The two oldest were born within a year in Sotkamo, five in Pulkkila and the last six in Inari. Lauri Arvid Itkonen was born in 1865 in Savo and he was the year after their move from Inari Vicar of Vihti until his death. Lauri Arvid Itkonen died on June 3, 1925, sixty years old.
---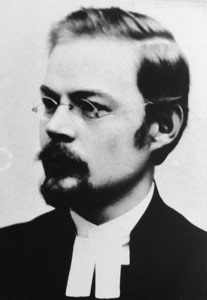 Lauri Itkonen served as Vicar of Inari from 1899 – 1914.