In the spring of 1886 the head of the Finno-Ugric Society, O. Donner, persuaded August Valdemar Koskimies (formerly Forsman) to go to Inari to investigate and record the Inari Sámi language, which Koskimies agreed to. Master of Arts K. Cannel and undergraduate G. Stenvik (later Kivistö) accompanied him. On June 11th they boarded a ship in Vaasa and sailed to Sweden, and via Sundsvall and Östersund, they went onto Trondheim, Norway. They boarded a ship there and sailed to Vadsø in Norway. On June 26th they sailed across Varanger Fjord to Pykeijä and from there travelled to Näätämö. From there they continued to the end of Suolisjärvi and took a boat to the parsonage in Inari. That is where Koskimies would be living during his stay in Inari.
Koskimies acquired informants and got to work the beginning of July, 1886. As informants, he had an Inari locksmith and schoolmaster Heikki Mattus who spoke the western Inari dialect, farmowners Mikko Aiko who spoke western Inari dialect and Joho Petteri Lusmaniemi who spoke eastern Inari dialect, even though he lived in western Inari, as well as (once) shopkeeper and juror Paavali Valle who spoke southern Inari dialect, though he lived in western Inari. Other informants appointed by Koskimies were Antti Juhanipoika Kitti (one of the two Menes-Anttis) who spoke western Inari dialect, Antti and Matti Sarre who spoke northern Inari dialect, raftman Pietari Valle who spoke eastern Inari dialect, as well as Uula Morottaja who spoke eastern Inari or Petsamo dialect. His language samples were recorded by T.I. Itkonen.
A.V. Koskimies began work with his first informant to determine in the beginning some more important grammatical things. This first informant was perhaps Heikki Mattus, but he was forced to quit due to work and another informant stepped in for him, possibly Mikko Aikio. The Vicar of Utsjoki, Anders Andelin, had previously compiled a Finnish-Inari Sámi vocabulary which A.V. Koskimies, together with another informant, began to complete. He was otherwise satisfied with his language work in Inari, but there was one thing that he mentioned that he was particularly pleased with and that was defining the Inari Sámi language phonetics. People in some instances pronounced sounds in very different ways and the vowel sounds were, in his opinion, rather weak, i.e. it was difficult to distinguish any particular major vowels. These things were eventually cleared up after acquiring more language samples and better familiarity with the language.
On September 21, 1886, Koskimies returned home to the south. His work in Inari lasted over 2 ½ months, resulting in 100 childrens' stories, about 200 ancient stories and about 75 proverbs. T.I. Itkonen later translated this material into Finnish, complimenting it with his own notes and writings, as well as producing it in a booke called "Inarinlappalaista kansantietoutta" (Inari Lapp Folklore), the first edition of which was in 1917. The second edition was published by Lea Laitinen in 1979.
Poet, schoolmaster and scientist Aukusti Valdemar Koskimies was born in Pihlajavesi on January 7, 1856. His parents were Vicar Oskar Wilhelm Forsman and Maria Gustafva Ahlholm. August Valdemar started officially using the name Koskimies in 1906; so he still went by the name Forsman while working in Inari. He received the Master of Arts degree in 1882 and Licentiate of Philosophy in 1891. A.V. Koskimies published many works and compilations and received the title of Professor in 1926. He died in Helsinki on June 5, 1929.
---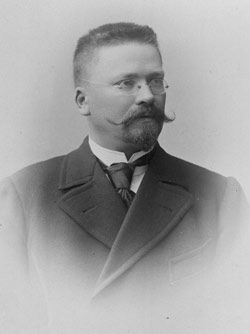 The work dealing with Inari Lapp folklore is based on data collected in Inari by August Valdemar Koskimies.