At present, the Inari Sámis work in nearly all known professions. The transition from the old system of natural economy to the present technological society has taken a good 40 years. It is an extremely short time if one considers the amazing pace of the development. People have not always been able to meet the challenge of this development in all its aspects. Technology, however, continues its triumphal march so one can expect the increase of new professional titles.

Probably the oldest profession since the very beginning of the Middle Ages has been that of the shaman. Practitioners of this trade have lived even in the 1900s. One of the latest ones has been Ison Antin Anna (Anna Antintytär Sarre, 1843 – 1915), who lived at Iijärvi. The most traditional profession formed was the fishing, hunting and gathering system of economy that even Ison Antin Anna did for a livelihood. In the old days this profession did not have any particular title. Nowadays these same methods used for making a livelihood are called natural homesteading. Very respectable trades from days of old included the hired man and the hired girl. Men who did hired work could even lead to that same person becoming the master of a household, as was the case with Leski-Antin Uula (Uula Morottaja, 1892 – 1963), who lived at Sulkusjärvi. The village elder or village superintendent, whose word was the law of the village, was another old occupation. Title holders representing the top of their trade in later times included the reindeer herding district master and hired reindeer herder.

Modern Professional Titles

As we entered modern times bureaucracy increased and brought with it various demands. People had to create "real" professional titles. People who did not belong to any particular profession but anyway earned their living may have chosen the trade name of workman or general worker. If the person had a few reindeer and made a living by other means, he chose the title reindeer herder. One who owned fewer reindeer but mostly earned his living by fishing chose the professional title fisherman. There were probably not many who went by the title hunter.
During the second half of the last century the number of people who earned their living with reindeer husbandry has somewhat increased but it is a phenomenon due to the transition in professional structuring. There is one occupational title which includes all the previously named (accept for shaman, village superintendent and hired man), the homestead owner. He trapped willow grouse and fished, went to reindeer separations, made market trips to Bugøyfjord and gathered cloudberries. He may have even practiced small-scale cattle farming and other forms of agriculture, but nobody earned a living solely with agriculture. One Inari Sámi was asked what his trade was for some document, to which he answered: jack-of-all-trades.
Various Professions

One of the most exotic of professions that an Inari Sámi ever practiced was that of sea captain. As a young man, Inari Sámi Matti Saijets set out, a bit before the War of Continuation broke out, from Linahammar as a mess boy on the sea in March, 1941. After sailing for years on various ocean-going vessels, he at last went to the The Institute of Maritime Education of Kotka of from which he graduated as sea captain in 1962. Among others, he has served as captain of the 57,000 ton Universe Defender which transported oil from the Persian Gulf to different harbors around the world. Among Matti Saijets' base of operations was not only the Azores of Portugal but also Inari, where he spent his vacations. Matti Saijets died in the 1990s and is buried in the Azores.

Another just as special trade is tv-channel director. Erja Morottaja was born in Kaamanen and went to school in Kaamanen, Inari and Ivalo, after which she applied for work abroad. She worked e.g. on a kibbutz in Israel for eight months. After working abroad Erja returned to Finland to settle in the capital where she continued her studies. Upon graduation she worked as a journalist for several years. In addition to newspaper work she did program acquisitioning for Cannel Four. In 2005, she was chosen as channel director for Finnish Music TV.

Other specialized or otherwise untypical occupations for Inari Sámis which have been practiced are: horologist, churchwarden, merchant, bone engraver, dog-team driver, school superintendent, school headmaster, primary school teacher, cook, kitchen assistant, editor-in-chief, radio journalist, fire chief, home nurse, baby-sitter, daycare assistant, it-designer, designer, cultural department secretary, municipal superintendent, custodian, mess boy, waiter/waitress, taxi entrepreneur, confectioner, lumberjack, plumber, chauffeur, telephone technician, gold prospector, shop assistant, border guard, customs official, policeman and postman.

Occupational Transition

The structure of Inari Sámis' occupations went through a great change at the shift of the 1960 – 70s due to the arrival of the snowmobile to northern Lapland. At first there were only a few snowmobiles, but the reindeer herders' and farmers' interest in them grew and by the middle of the 1970s almost every household had one.

The effect of the coming of the snowmobile had on reindeer husbandry was decisive. The cost of buying one was rather high but the cost of fuel and eventual spare parts was even greater. Because the snowmobile had come to stay, this eventually led to the disappearance of the small-scale reindeer herder. For the most part Inari Sámis had maybe about fifty to one hundred reindeer, but this amount of deer could not support the use of a snowmobile as the herder also had to make a living. Without a snowmobile one could not participate in the work of herding because he would not be able to keep up with the others on skis. The only solution to the problem was either a definite increase in the amount of reindeer or to give up reindeer husbandry altogether. Most Inari Sámis decided on the latter solution. They had to acquire new professions.

Quick Changes

Even though willow grouse trapping, berry-picking and fishing kept their places in the overall system of making a living, especially the young had to look further afield. Many of them continued their studies, ending up in various occupational schools, institutes of higher learning or teacher training. Some moved to Sweden to take part in the western welfare society. Some founded their own businesses with varying success. Some young people stayed in their homeland trying to get by on random jobs and many fell behind in the development. All-in-all, the change was extraordinary, especially since it happened in such a short period of time.
Time moves on and the Inari Sámi people with it. Because of this, you may nowadays meet them as students, apprentices, entrepreneurs, lumberjacks, secretaries, artisans, language researchers, fishermen, cultural administrators, bus chauffeurs, nature wardens, fishing wardens, electricians, automobile mechanics, writers, poets, hotel employees, teachers, tourist guides, musicians, hairdressers, foremen, cleaners, reindeer herders, travel agents, family daycare workers, translators, plumbers and firemen.
Ilmari Mattus
---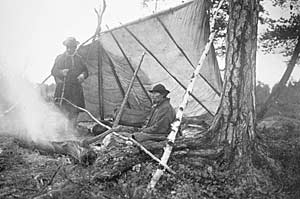 Pekka Saijets and Matti Paadar in a wind shelter for hunters at Paatsjoki. T.I. Itkonen 1913.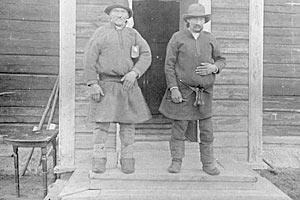 A photograph from the door of the porch of the Inari vicarage, Parish Clerk Heikki Mattus and Churchwarden Santeri Valle in 1918.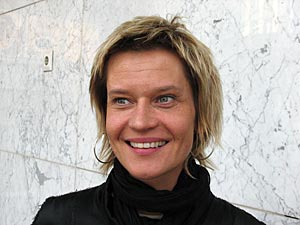 Finnish MTV channel director Erja Morottaja.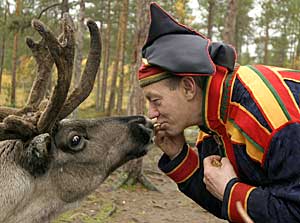 Tourism entrepeneur Into Paadar from Inari.