Edvard Wilhelm Borg was born in Pyhäjoki 1.6.1830, completed his matriculation exams April 21, 1851, and was ordained as a priest in Kuopio December 14,1853. He arrived April 2, 1856, in Inari to temporarily fill in preacher's post for the assistant vicar of Inari, was appointed assistant vicar of Inari April 3,1857, and graduated as Pastor March 17,1858. As well as having the position of assistant vicar he substituted for the Utsjoki vicar, after which he became vicar of Utsjoki February 2, 1860. After transferring to Utsjoki he took care of the duties of the assistant vicar of Inari from Utsjoki as of the beginning of 1867. After this he applied for and was appointed as substitute vicar for the greater congregation of Raahe and Saloinen, was given the vicar's post there in 1868 and finally the position as dean of the Pieksämäki congregation in 1873. He also served as the official vaccinator of Utsjoki between 4.29.1856 – 1.1.1867.
E.W. Borg was a significant personage, being the first person in the world to complete a degree in the Inari Sámi language and he received an "excellent" grade from Professor Elias Lönnrot on his certificate February 20,1858, for his skills. He received the same degree for his skills in North Sámi September 4,1860. He produced the plaque "Andogas vuođa oppa" (The Doctrine of Salvation) which was printed in Helsinki in 1857. There is no more information available about this plaque. We can discern from this that E.W. Borg was in Lapland 11 years during which time he was able to produce "Anar sämi kiela Aapis kirje" (Inari Sami language alphabet reader). It is 93 pages long and also includes Dr. Martin Luther's "Ucca Katkismus" (Little Catechism). The book was printed in Oulu in1859 and Heikki Mattus (1838 - 1926) served as assistant and informant in its production. The Alphabet Reader is as far as is known the oldest Inari Sámi language publication and, as we can see, the style of writing has not greatly changed in one and a half centuries. This is what E.W. Borg wrote in his introduction in 1857:
"Dear children! This is an Alphabet Reader and Little Catechism for you written in the language of your mothers and of your birth. This has been put into two languages so that you may see how each word is put in your own language, and therefore better understand what is written in the book and what God is speaking to you through it, that you would also learn the Finnish language in which the Holy Scriptures, or Bible, and many other beautiful books have been written. May God in His mercy grant you understanding, wisdom and blessing by reading this book so that it may bring you eternal salvation through Jesus Christ – Written in Inari in April mannadest ihä 1857, Edv. Wilh. Borg".
E.W. Borg was married for the first time April 20,1856, to Hilma Johanna Malmberg, became a widower April 10,1877, and remarried January 13,1878, to his late wife's sister Wilhelmina Malmberg. They had nine children, three of whom were born in Inari, three in Utsjoki and the rest in Raahe and Vaasa. In the same year that he moved to Utsjoki in1860 his little son Matti died and is buried on the Burial Island in Lake Inari.
E.W. Borg was ordained "Knight of the Order of Saint Olaf" 1.25.1868. He also served as Primary School inspector of the southern region of the Province of Oulu between May 1,1868 – April 1, 1883. E.W. Borg died in Oulu January 13, 1910, one week after turning 80.
---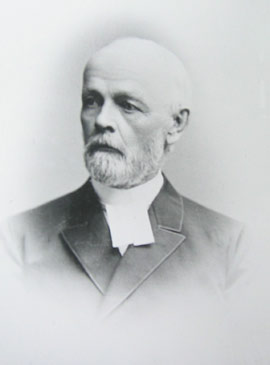 Edvard Wilhelm Borg, the Vicar of Utsjoki.