Erkki Itkonen was born in Inari June 26,1913, the youngest child of Lauri Arvid Itkonen's family. His stay in Inari was cut short however and the next year the family moved to Vihti. Upon secondary school graduation in Lohja in 1930 Itkonen began studying folk poetry, Finnish and Finno-Ugric language studies at the University of Helsinki. He completed the Master of Arts degree in 1933 after which he worked at a research institute as lecturer in the University of Helsinki. He served as an additional professor for Finno-Ugric studies in 1950-1956 and in 1956-1963 as head professor. From 1964-1983 Erkki Itkonen was a member of the Finnish Academy.
Erkki Itkonen was active in various societies such as the Finno-Ugric Society (as head 1968-78) and the Lapland Cultural Society (as chairman 1957-62). He was editor of the journal Sabmelaš 1934-1950.
As a researcher Erkki Itkonen was during the whole of the 1900s the most significant Finno-Ugrist.He published a great number of new and creative studies of the Finno-Ugric languages as well as many about the different Sámi languages and Sámi literature. Itkonen was only 26 years old when he presented his thesis in 1939 on the qualitative traits of vowels of eastern Sámi (particularly Inari and Skolt Sámi) and published a sequel to it in 1946 which dealt with complex continuous-verb constructions and formation in eastern Sámi languages. After that he broadened the view about from sounds to grammatical structures and sentence grammar. He dealt, for example, with the history of duals, verb inflections and cases in different Finno-Ugric languages. His most well-known Finnish languages works of Kieli ja sen tutkimus (Language and Its Study)(1966) as well as well as the Suomen kielen etymologinen sanakirja I-VI (Finnish Language Etymological Dictionary I-VI) (1955-1978) of which he was editor for the whole dictionary production.
Inari Sámi was in any case Erkki Iktonen's long-term and dearest research subject which he worked with from the 1930s until the 1990s. He already collected in 1935 and 1936 form-related data and vocabulary and started systematic collection in 1950 for an Inari Sámi dictionary. The result of this work was the publication of a broad scientific dictionary from 1986-1991 called "Inarilappisches Wörterbuch I-IV". Itkonen developed an orthography of which a slightly more exact version is in use at present and tells of the sound traits of the language in use then and different dialects at the first half of the last century. It is based on the data collected from the 1880s until the 1980s, the main part of which is the result of the work of Erkki Itkonen and his approximately twenty Inari Sámi informants. Of them Aili Paadar assisted Itkonen with dictionary work for 9 months in Helsinki as well as Elsa Kuuva (presently Valle) in 1978 for a few weeks when the data was completed for the last time
The most important academic among Itkonen's Inari Sámi informants was undoubtedly Uula Morottaja (1892-1963), an active writer for Sabmelaš Journal, who Itkonen considered to be equal to the best of Sámi writers as a story-teller. With Uula Morottaja he got perhaps closest to the inner essence of the Inari Sámi culture. In the summer of 1952 Itkonen recorded twelve Inari Sámis in Inari, many of whom worked with him on the dictionary: Elsa Kuuva, Katri Lahdenmäki, Uula Morottaja, Jouni Musta, Maarit Musta, Iisakki Paadar, Inga Paadar, Pekka Paadar, Matti Saijets, Heikki Sarre, Matti Valle and Juha Matti Valle. On the basis of these recordings Itkonen completed his last work which was a collection of language samples of Inari Sámi "Aanaarkiela čájttuzeh" (1992). He transcribed and translated into Finnish these discussions himself.
Erkki Itkonen died on May 28, 1992, only one and a half weeks after he had been to work and said goodbye to his workmates. He was born in the land of the Inari Sámis and worked as an Inari Sámi researcher and was the epitome of research itself all his life.
---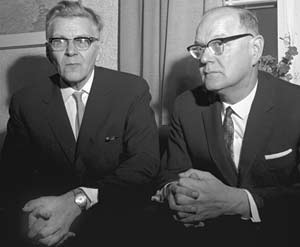 Academicians Martti Haavio and Erkki Itkonen on Professor Martti Rapola's 75th birthday at Sääksmäki in 1966.