The original log kota-huts of the Inari Sámi have not lasted to this day although the situations of old villages and individual kota sites have been mapped in many locations in the Inari Sámi lands. There are excellent descriptions, drawings and photographs of the old dwelling culture. T. I. Itkonen, Ilmari Itkonen, Samuli Paulaharju and many more recent researchers are some of those that have provided these.

The kota and hearth has gradually developed into a small one-room log cabin with a stove-wall and later a 2-room or 3-room dwelling with a large farmhouse living room, unheated vestibule and bedchamber.

Although the winter home was lived in for the greater part of the year, the summer home dwelling was in many ways better equipped and more spacious. In addition to the living quarters, both dwelling places included other important buildings and constructions. This was affected by the sources of livelihood: fishing, reindeer and cattle husbandry, as well as small-scale agriculture.

Purposefully Equipped Dwellings

The yard of the summer home traditionally included, in addition to the main building, the sauna and beach for washing , several outbuildings, cowshed, sheep barn, net and seine racks, a boat landing, fish drying racks or roofed arttu-rack, and most important, a cellar. During the summer fishing season, it was important to preserve the catch in a sufficiently cold space, so the building of a cellar was deemed worthwhile, and the possibilities provided by nature, such as cold rock walls or swamps were taken advantage of.

Nearby the summer home, there were drying racks near beach and bog meadows for drying hay and horsetail was harvested there. Nesting houses made from old pine or other wood were placed near the shore on suitably old trees to provide water birds with places to nest and made egg gathering easier. As potato, turnip and other vegetable growing became familiar to the Inari Sámis every available tillable spot of the yard was worked for growing. Even flower gardens were planted next to the walls for decoration.
In addition to the main building at the winter home there was a sauna, cowshed and barn, fish and meat drying racks, cellar, storehouses and other racks for various purposes as well as corrals for lead reindeer or tethered calving. In early spring meat was dried for summer consumption and there were meat-drying racks set up on the rooftops. There were aittas, or small wooden storehouses, built on legs or single-pillar aittas, called nilis.

Many Inari Sámi home tracts complete with buildings have been preserved in the environment of Lake Inari. Some old buildings are still being used, many as summer places. The old Inari Sámi building traditions can be seen at the outdoor museum area of The Sámi Museum; buildings have been transferred from the village of Tirro and the fishing village from the shore of Vuopaja has been reconstructed.

Irja Jefremoff
---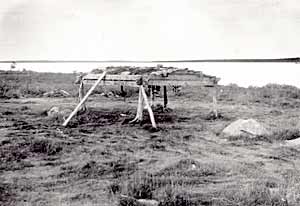 Valle's traditional cache from Syysjärvi Lake. Samuli Paulaharju 1925.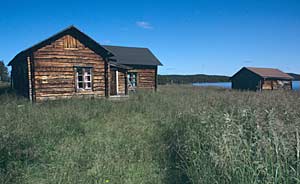 Numerous old buildings belong to the Sulkusjärvi home.